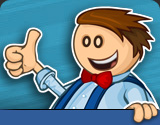 Big Pauly is a Crushida Pepper salesman and one of Papa Louie's loyal customers. He first appears in Papa Louie: When Pizzas Attack! and has appeared in every game since, always with an unhealthy order.
Appearance
Edit
Big Pauly is one of the heaviest customers. He has slicked back brown hair and no eyebrows. He wears a red bow tie and suspenders. He also wears a blue shirt and brown pants.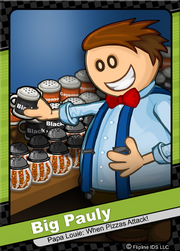 Big Pauly's Flipdeck was released on April 27, 2012.
After opening Pauly's Pepper right next to the Pizzeria, Big Pauly quickly became a regular customer at Papa Louie's restaurants. He came to Papa Louie's aid when Sarge contaminated a batch of pepper which created dozens of Pizza Monsters. Big Pauly supplied Papa Louie with explosive Pepper Bombs to help defeat Sarge and the infamous Onion Ring.
Ad blocker interference detected!
Wikia is a free-to-use site that makes money from advertising. We have a modified experience for viewers using ad blockers

Wikia is not accessible if you've made further modifications. Remove the custom ad blocker rule(s) and the page will load as expected.