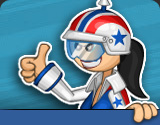 Boomer
is a daredevil who hails from
Toastwood
. She debuted in
Papa's Wingeria
.
Appearance
Edit
She wears a helmet with the patterns according to the colors of the United States.She also wears a suit according to the flag and wears a red cape.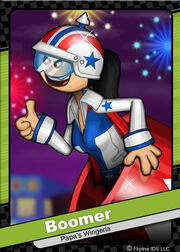 Boomer's Flipdeck was released on September 25, 2012.
Boomer is a world famous daredevil who performs a wide variety of stunts in Starlight City. As a teenager, she got her start jumping crates on her bike in the dusty streets of Toastwood. Now Boomer holds the record for jumping over a dozen buses on a motorcycle. Her famous human cannonball show draws a massive crowd to the streets of Starlight City each year.
Papa's Wingeria
Edit
4 wings coated with BBQ Sauce (Placed all around)
4 wings coated with Spicy Garlic Sauce (Placed all around)
8 cheese cubes (Placed all around)
Ranch Dip
Mango Chilli Dip
Papa's Hot Doggeria
Edit
Pretzel Bun
Cheddarwurst
Papa's Ballpark Mustard
Fajita Veggies
Chilli
Bacon
Large Cup of Hyper Green
Large Cup of Red Hot Popcorn
Boomer was featured in a blog post in conjunction with America's Independence Day and she was doing what she does best, being the human cannonball.
Ad blocker interference detected!
Wikia is a free-to-use site that makes money from advertising. We have a modified experience for viewers using ad blockers

Wikia is not accessible if you've made further modifications. Remove the custom ad blocker rule(s) and the page will load as expected.