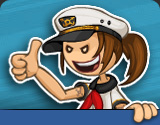 Captain Cori
is a seafaring customer who helps ferry other customers to
Calypso Island
. She debuted in
Papa's Freezeria
where she was a closer before retiring in
Papa's Pancakeria
.
Appearance
Edit
Captain Cori is a woman with brown hair tied into a ponytail. She wears a captain's cap (obviously denoting her rank), a white sailor top with a black collar and a red scarf, a black skirt and white shoes with yellow shoelaces.
Captain Cori's Flipdeck was released on April 2, 2012.
Captain Cori has been sailing the open seas since she was just a little girl. Although she can be a little salty, Cori is hard working and very reliable. She was recently offered a job by Papa Louie to captain his first luxury food cruise aboard the S.S. Louie.
Captain Cori's design could be based off Popeye the Sailor. It is noted that both are seafarers, have bulky arms and a tattoo of some sort.
Ad blocker interference detected!
Wikia is a free-to-use site that makes money from advertising. We have a modified experience for viewers using ad blockers

Wikia is not accessible if you've made further modifications. Remove the custom ad blocker rule(s) and the page will load as expected.