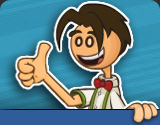 Carlo Romano
is the youngest member of the Romano Family Quartet. He is the younger brother of
Bruna
, son of
Little Edoardo
and the late Giordana, cousin to
Gino
and nephew to the late Giacomo "Gigante" Romano. He debuted in
Papa's Pizzeria
.
Appearance
Edit
Carlo has brown combed hair and side bangs. He wears a white shirt with green lining, a red bowtie, green suspenders that hold up his red pants and brown shoes.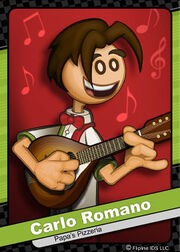 Carlo's Flipdeck was released on December 10, 2012.
Carlo grew up in the town of Portallini with his older sister Bruna and the rest of the Romano family. Even at a young age, Carlo was a natural at playing the Mandolin. Although he can now play a variety of stringed instruments, he still prefers the soft tremolo of an old Mandolin. Carlo is always eager to help aspiring musicians and even taught Marty his first chords.
Like all Romanos, he hail from the town of Portallini.
His hairstyle is similar to Papa's Burgeria Johnny (now known as Pinch Hitwell) whom never appears as a visible customer in the game.
According to his Flipdeck, he taught Marty how to play the guitar.
He is the only Romano in Papa's Next Chefs Tournament 2011 to win a division (Pepperoni Division) and he won it with Cecilia.
Ad blocker interference detected!
Wikia is a free-to-use site that makes money from advertising. We have a modified experience for viewers using ad blockers

Wikia is not accessible if you've made further modifications. Remove the custom ad blocker rule(s) and the page will load as expected.