Clover is the younger sister of Marty and is also one of Papa Louie's customers. She first appeared in Papa's Pizzeria and every Papa game since then except Papa's Pancakeria. She is in the band Scarlett and the Shakers alongside Marty and Scarlett.
Appearance
Edit
Clover originally had blonde hair, but now has golden hair as of Freezeria. She has a checkered hairband and wears a white shirt. She also wears a black tie and blue pants. She has drumsticks in her pocket. In Cupcakeria, she wears a black shirt with a white tie and a white skirt and gained a belt.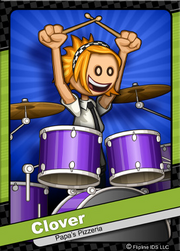 Clover's Flipdeck was released on January 7, 2013.
Clover is the younger sister of the popular burger chef, Marty. She is a talented drummer who can keep a solid beat at break-neck speeds, She practives daily in her garage on a quiet cul-de-sac in Burgerburgh. Clover, along with her brother are in a ska-punk band called Scarlett and the Shakers.
Ad blocker interference detected!
Wikia is a free-to-use site that makes money from advertising. We have a modified experience for viewers using ad blockers

Wikia is not accessible if you've made further modifications. Remove the custom ad blocker rule(s) and the page will load as expected.