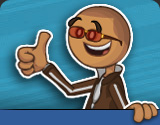 Hugo
is a customer whose first appereance was in
Papa's Pizzeria
. He has been absent only one time, and that was in
Papa's Pancakeria
. 
Appearance
Edit
Hugo wears a dark-brown fleece sweater, brown trousers and white shoes. He's brown-skinned with dark, thick eyebrows. He's not entirely bald, but his hair is very short. He also wears brown spectacles with red lenses.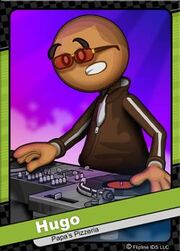 Hugo's Flipdeck was released on January 22, 2013.
Hugo is a local DJ and avid record collector. On Wednesday and Friday nights he's known as DJ Honey Buster at Club Atomic in downtown Tastyville. During the day, he runs Hugo's Warped Records, a small shop specializing in rare vinyl records and music merchandise. One of his prized records is the first single of the Romano Family Quartet, "A Walk in the Field".
Papa's Pizzeria
Edit
4 sasuages on the right half
4 peppers on the bottom right
30 minutes (1/2 of clock)
6 pieces
Papa's Burgeria:
Edit
From bottom to top:
Bottom bun
Pickle
Tomato
Pickle
Medium patty
Medium patty
Top bun
Papa's Taco Mia!
Edit
Pita Shell
Steak
Black Beans
Guacamole
Loco Sauce
Chese
Jalapeños
Papa's Freezeria:
Edit
Large cup
Mixables: Nutty butter cups
Syrups: Chocolate syrup
Regular blend
Whipped cream
Chocolate chips
Cherry
Papa's Wingeria:
Edit
6 chicken strips with honey mustard sauce
6 boneless wings with Atomic sauce
2 awesome sauce dips
Papa's Hot Doggeria
Edit
Italian Sausage
Chicago Bun
Fajita Veggies
Sauerkraut
Marinara Sauce
3 Tomatoes
Large Dr. Cherry
Large Red Hot Popcorn
Papa's Bugeria for the Ipad
Edit
From bottom to top:
Bottom Bun
Pickle
Onion Ring
Well-Done Patty
Well-Done Patty
Mushroom
Awesome Sauce!
Top Bun
Ad blocker interference detected!
Wikia is a free-to-use site that makes money from advertising. We have a modified experience for viewers using ad blockers

Wikia is not accessible if you've made further modifications. Remove the custom ad blocker rule(s) and the page will load as expected.