Jojo is a food critic and one of Papa Louie's customers. His order changes every time he comes. He is the Sunday closer and will give a Blue Ribbon to the chef if his meal is good. He debuted in Papa's Taco Mia.
Appearance
Edit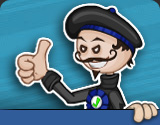 Jojo has black hair and wears a beret. He has a thin mustache and has a blue ribbon pinned to his black turtleneck.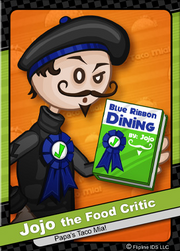 Jojo's Flipdeck was released on June 3, 2011.
Jojo is known far and wide as the premier food critic. He is an adventurous foodie who never orders the same meal twice. Jojo makes weekly stops at restaurants to sample their food. If he enjoys his meal, he will award the shop with his Blue Ribbon. Customers always tip more when a Blue Ribbon is in sight.
According to his Flipdeck's image, he is the author of the book 'Blue Ribbon Dining'.
Ad blocker interference detected!
Wikia is a free-to-use site that makes money from advertising. We have a modified experience for viewers using ad blockers

Wikia is not accessible if you've made further modifications. Remove the custom ad blocker rule(s) and the page will load as expected.