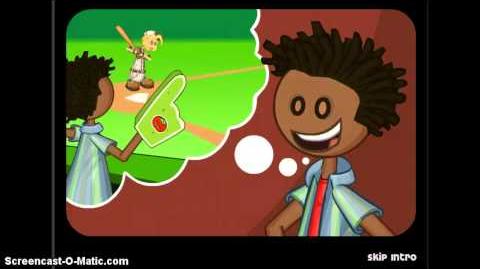 Papa's Hot Doggeria
is the 7th of the Papa's Gameria series, after
Papa's Wingeria
. In this game, you can work as Taylor or Peggy, or you can be a custom worker.
Introduction
Edit
The Griller Stadium has opened! You go there to buy a ticket for the game.You are the last person in line.The tickets are sold out after the person in front of you, Jojo, buys his. You are sad. You see an advertisement on the wall that says that Papa Louie wants to hire someone for Papa's Hot Doggeria, and says it has the best seats in the house.
Order Station

Edit
This is the place where the customers wait to get their orders taken, and to pick up finished orders.
Grill Station
Edit
This is the place where you cook the hot dogs. There are 4 different dogs to choose from. When the dogs are cooked you can put them in 4 different types of buns.
Build Station
Edit
The main place where people mess up and lose points. You put various toppings and condiments on the hot dog based on your customer's order here.
Pop Station
Edit
2 meanings: Carbonated drinks and popcorn. Each "pop" has its own individual dispenser. Both of them have 8 different flavors and 3 different sizes.
Ad blocker interference detected!
Wikia is a free-to-use site that makes money from advertising. We have a modified experience for viewers using ad blockers

Wikia is not accessible if you've made further modifications. Remove the custom ad blocker rule(s) and the page will load as expected.