Roy is the former delivery boy and current manager of Papa's Pizzeria. His uncle is Papa Louie.
Appearance
Edit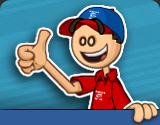 Roy has black hair and thick eyebrows. He wears a blue and red cap that says Papa's Pizzeria and a red tee shirt that says Papa's Pizzeria. He also has blue jeans and a belt holding them up.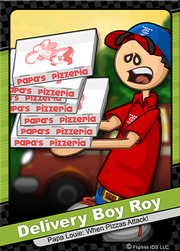 Roy's
Flipdeck
 was released on February 16, 2012.
Roy is more than a mere Pizza Delivery Boy. Ever since he was left alone at work, Roy reluctantly took on the roles of a Cook, Waiter and General Manager of Papa's Pizzeria. When he's not prepping pizzas, Roy can usually be found running errands for his uncle, Papa Louie.
Ad blocker interference detected!
Wikia is a free-to-use site that makes money from advertising. We have a modified experience for viewers using ad blockers

Wikia is not accessible if you've made further modifications. Remove the custom ad blocker rule(s) and the page will load as expected.