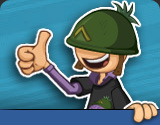 Sarge Fan!
is a fan of the evil Sarge despite being one of Papa Louie's loyal customers. He debuted in
Papa's Pizzeria
and will always order anything related to onions (or berries if he can't get any).
Appearance
Edit
True to his fan-interest, Sarge Fan! dresses in a purple clothing, a black over-shirt bearing the image of Sarge and a green army helmet that covers his eyes.
Sarge Fan!'s Flipdeck was released on February 2, 2012.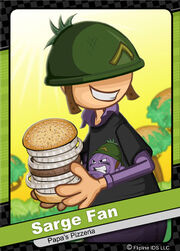 This mischievous customer is absolutely obsessed with Sarge and can always be found parading around town in his green army helmet. With the help of Quinn, he had his name legally changed to Sarge D. Fan. When Sarge Fan heard of Papa's Freezeria opening up, he personally petitioned to have his favorite candy, Gummy Onions, on the menu.
While in-game, Sarge Fan!'s name always have an "!" exclamation mark in it. However, it is absent in his Flipdeck and full name.
He, Radlynn and Foodini are the only three customers whose eyes cannot be seen due to their over-sized head-wear. However, Foodini's eyes can be seen slightly.
Ad blocker interference detected!
Wikia is a free-to-use site that makes money from advertising. We have a modified experience for viewers using ad blockers

Wikia is not accessible if you've made further modifications. Remove the custom ad blocker rule(s) and the page will load as expected.