Timm is one of Papa Louie's loyal customers. He has changed his appearance many times over the years and he is now a dancer. He debuted in Papa Louie: When Pizzas Attack and has appeared in all of the Eaterias except for Papa's Freezeria.
Appearance
Edit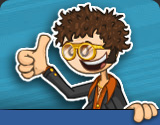 Timm has messy brown hair and thin eyebrows. He also has sideburns and thick yellow glasses. He wears a black and orange dancing suit.
Timm's Flipdeck was released on December 20, 2011.
Timm has been a loyal customer of Papa Louie since the very beginning. Always keeping up with the times, Timm has been evolving his look throughout the years. He finally quit his job at "Quinn, Timm, and Associates" to pursue his lifelong dream of becoming a world champion dancer.
Ad blocker interference detected!
Wikia is a free-to-use site that makes money from advertising. We have a modified experience for viewers using ad blockers

Wikia is not accessible if you've made further modifications. Remove the custom ad blocker rule(s) and the page will load as expected.